Smart governments know cyber health is key. Talk to us today about a checkup!
Local governments are increasingly becoming attractive targets for cyber criminals because of the vast amounts of sensitive data they maintain about employees, infrastructure and their residents. To keep pace with the constantly evolving threats and tactics, it's critical that you understand how to minimize your government's risk of attack.
That's why the Center for Government Innovation created its #BeCyberSmart program, which includes free checkups and resources, to help local governments improve their cyber health.
Schedule your cyber checkup today!
About the Center's checkups
The Center's cyber checkups provide a fast, free and independent assessment of your government's vulnerability to common threats, along with actionable steps you can take to improve your overall cyber health. This handy pdf includes Center contact information about our checkup program you can share with others.
A cyber checkup will help you:
Understand cybersecurity safeguards and why they're important
Identify cybersecurity gaps and prioritize improvements
Begin building a cybersecurity program if you don't have one already
Connect to free and low-cost resources to improve your cyber health
The Center's cyber checkups are built on the framework developed by the Center for Internet Security (CIS) in its Critical Security Controls, Version 8.0. The CIS Controls — developed by a consortium of private companies, government agencies, and universities — are a list of highly effective defensive actions organizations can take to improve their cybersecurity.
What to expect during a checkup
Our remote cyber checkups are designed to be completed within a short timeframe. A checkup can be completed in less than a month, depending on your government's availability.
Our checkups are a five-step process:
Questionnaire: You'll receive a questionnaire to fill out and return to the Center.
Planning meeting: A cybersecurity specialist from the Center will meet with you (and your team) to go over your answers to the questionnaire and gather more information.
System review: The cybersecurity specialist will conduct a remote review of your IT systems.
Checkup results: You'll receive a confidential report with the results of the cybersecurity specialist's evaluation along with detailed recommendations to help your government improve.
Final meeting: The cybersecurity specialist will meet with you and your team to discuss the results in more detail and answer your questions.
After your checkup, we're still here for you. Our cybersecurity specialists are available to answer your technical questions and provide continued assistance with implementing any recommendations.
Cyber checkup costs
Our cyber checkups are available at no cost to Washington governments.
Confidentiality and disclaimer
The Center's cyber checkups are confidential and subject to RCW 42.56.420 and RCW 42.56.270.
Please note that the Center's cyber checkups are not an alternative to a detailed cybersecurity audit or your government's regular and ongoing cyber hygiene, maintenance, and monitoring activities.
Cyber resources
We offer a variety of guides and handouts to improve employee awareness of typical cyber schemes, identify training from nationally recognized cybersecurity organizations and understand key cyber considerations based on position responsibilities. You can find more in our Resource Library and you can subscribe to SAO's e-newsletter to get cyber news delivered to your inbox.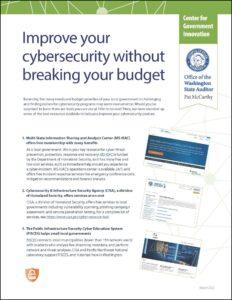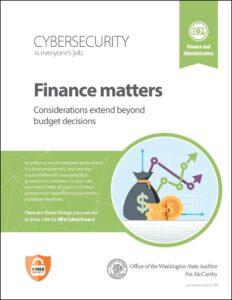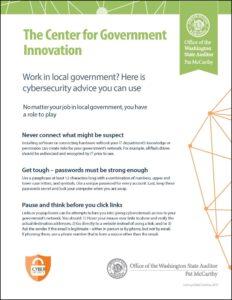 Ready to get started?
Contact the Center for Government Innovation to learn more about our cyber checkups, resources, and how we can help your local government improve its cyber defenses.
Want to share information about the Center's cyber checkups with others? Download a flyer.