Published: June 17, 2020
COVID-19 has challenged many governments to consider remote work strategies and how their work processes would need to change. Process improvement specialists have started gathering – virtually – to share their experiences and lessons learned during the pandemic. We are calling these sessions "Virtual Lean Coffee."
From stickies to screens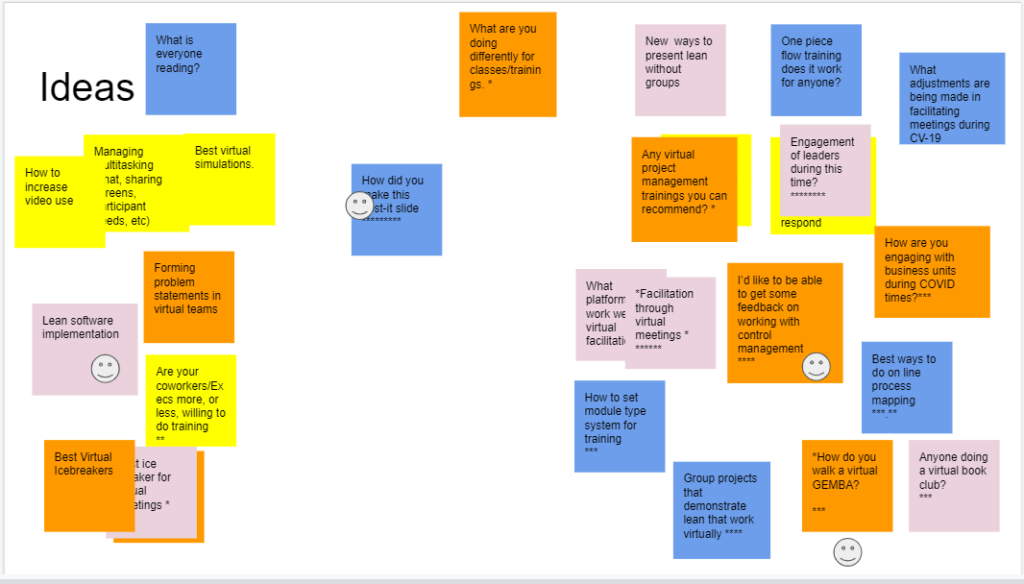 If you are familiar with continuous improvement, often called "Lean," you might associate this work with lots of sticky notes on long sheets of butcher paper and many flip charts. These tools are key to "make the work visible," a core principle of process improvement. We wanted to gather a group of Lean specialists so they could learn strategies from each other to manage the leap from paper to electronic tools.
In May, we gathered a group of about 20 experienced Lean facilitators in a Virtual Lean Coffee. They were a mix of local government employees, state government Lean specialists, and private sector managers and consultants. The event was co-hosted by Judy Wells, a consultant.
A structured, agenda-less meeting
The Lean Coffee format was a perfect fit for this group. Described by leancoffee.org as a "structured, agenda-less meeting," the process encourages all participants to propose potential topics for the conversation. Then each participant casts four votes for the topics they find most interesting. This process clarifies which topics are of substantial interest and sequences the conversation. Breakout groups then discuss their topic for about seven minutes, sharing experiences, resources, and clarifying common questions for continued learning.
In the May meeting, the topic that garnered the most interest was how to engage leaders in Lean process improvements in a remote workplace due to the coronavirus pandemic. Interestingly, some participants reported that both the quality and quantity of engagement with their leaders had actually improved. Others shared that responding to the pandemic had led managers to be less open to supporting process improvement efforts, even when the effort was directly connected to response efforts.
At the end of an hour together, participants shared that they enjoyed hearing from colleagues and found the process of doing Lean coffee online valuable as a model to learn from.
The learning will continue
Based on this first conversation, future topics will focus on such themes as technology platforms that work well for facilitating group work, adapting basic Lean training in the virtual environment, sustaining learning about Lean, and applying specific Lean management tools.
The next Virtual Lean Coffee will be held Friday, June 26. If you would like to know more or find out how to sign up, contact Steven Thomson at thomsons@sao.wa.gov.
About The Center for Government Innovation
The Center for Government Innovation exists to "Help local governments help those they serve." We promote continuous process improvement as a key strategy for making government more effective and efficient. Cities, counties, and special purpose districts of all kinds and sizes have taken advantage of our no-added-cost services. We provide basic training in Lean principles, facilitate process improvement workshops to give organizations firsthand experience, and provide more advanced services to help an organization go to the next level in using these approaches.