Resource Library - Cash Basis
Complete and accurate financial reporting is an important aspect of transparency for any local government or school district. Use these checklists to help you assess reporting risks, verify data accuracy, and review the important details of your annual financial report.
Checklist: Preparing and reviewing cash basis financial statements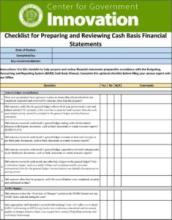 This customizable checklist can help local governments reporting under cash basis with their year-end process for reviewing financial statements, notes and supplemental schedules.
Last updated: January 2023
Checklist: Data quality
This checklist can help local governments verify the accuracy of the data they submit for their annual reports.
Last updated: August 2021