Resource Library - Federal Funds
Managing federal programs is no easy task. Use SAO's checklist to help you identify your government's potential risks and plan your response to mitigate them.
Checklist: Federal programs risk assessment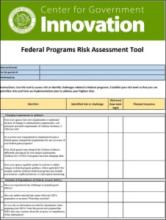 To help you protect your organization and meet compliance guidelines, this federal programs risk assessment checklist can help local governments identify, prioritize and mitigate risks to your federal grants.
Last updated: April 2022