Resource Library - Technology
Managing technology is an important part of your internal control process and safeguarding your data. These best practices can help you successfully implement a new applications system, ensure sound backup and recovery practices, and evaluate records management technology options.  
Guide: Managing Outdated IT Applications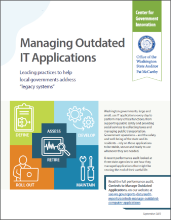 A new, short downloadable guide, designed to help local governments assess their outdated information technology (IT) systems and manage them more effectively.
Last updated: September 2023
Best Practices: Implementing a new application system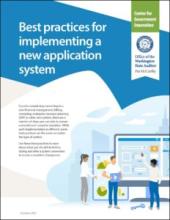 This list of best practices can help local governments learn what they need to do before, during and after converting to a new financial management, billing, receipting, enterprise resource planning (ERP) or other system.
Last updated: October 2021
Best Practices: Backup and recovery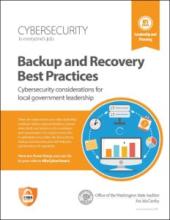 There are many risks to your data, including hardware failure, natural disasters, human error, theft, and attacks like malware and ransomware. This short guide to leading practices for data backup and recovery will help you develop a strong plan to quickly return to operation.
Last updated: January 2020
Guide: PRA and records management technology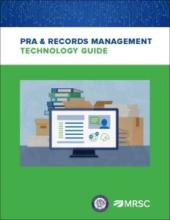 The Municipal Research and Services Center (MRSC), in partnership with SAO, developed this guide to help small- to medium-sized government agencies identify, evaluate and select records management technology solutions that are best matched with their needs, goals and budgets.
Last updated: January 2018
Reports & Data

Performance Audits

About Audits

Improving Government

BARS & Annual Filing

Report a Concern

About SAO