Published: July 13, 2022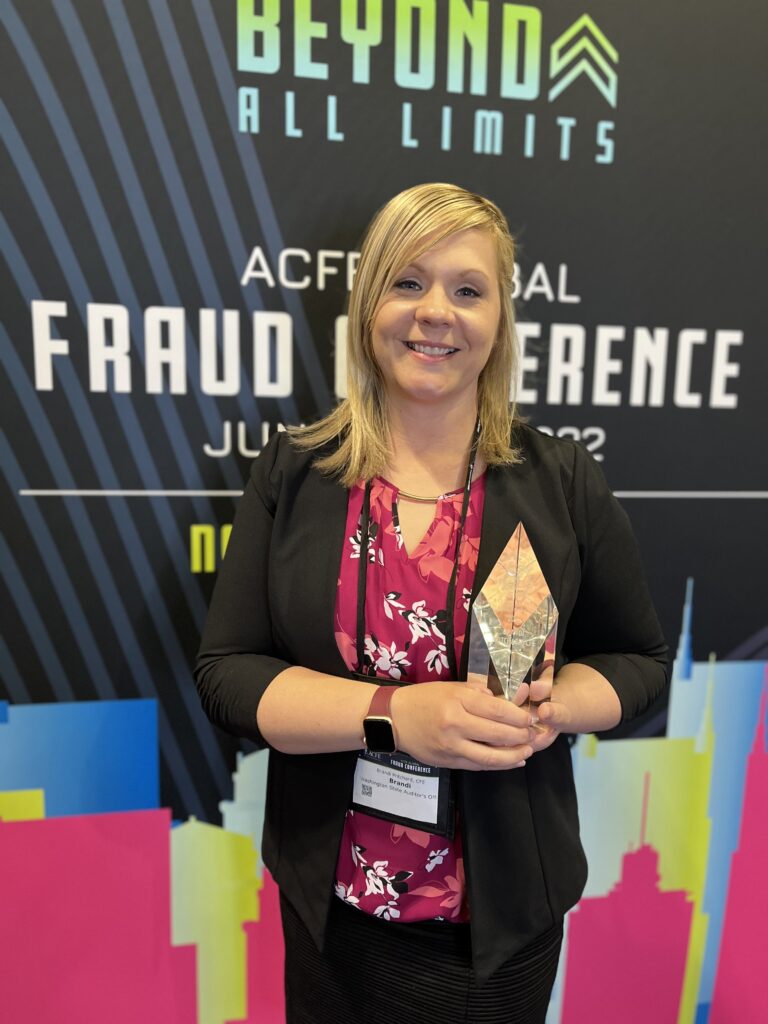 A leader of the Washington state auditor's special investigations team was recently recognized for writing an article sharing lessons on uncovering Washington's largest public misappropriation. 
Brandi Pritchard, Assistant Director of Local Audit and Special Investigations, is the recipient of the 2022 Hubbard Award for her article, "Calibrate your professional skepticism," which was published in the July/August 2021 issue of Fraud Magazine.  
"Brandi's experience, curiosity and professional expertise helped guide the audit team's leaders as they uncovered the largest misappropriation of public funds in Washington's history," said State Auditor Pat McCarthy. "Fine-tuned skepticism is at the heart of our Office's discovery of almost $7 million in missing public funds. By sharing her insights with peers, Brandi is helping others combat fraud not only across the nation, but around the world."
The Association of Certified Fraud Examiners (ACFE) presents the Hubbard Award each year to the author of the best article in Fraud Magazine, as voted by the members of the ACFE Editorial Advisory Committee.
Pritchard received the award in June at the 33rd Annual ACFE Global Fraud Conference in Nashville. With more 90,000 members and 190 chapters worldwide, ACFE works to foster a global community of anti-fraud professionals, with the goal of reducing fraud and corruption.
"This award is such an honor—I am so proud of SAO's work in holding governments accountable for how they manage public funds," Pritchard said.
Pritchard, a Certified Fraud Examiner, has been with the Office of the Washington State Auditor since 2003. She oversees SAO's fraud investigation program, and assists with statewide oversight and management of financial, federal and accountability audits for local governments. She is a graduate of Central Washington University.