Published: September 12, 2019
The Office of the Washington State Auditor is pleased to announce a new, expanded fall outreach event that takes the place of the BARS Roundtables.
The SAO Roadshow will travel to a location near you beginning in October and offer a full day of assistance and training, including:
A 3-hour, no-cost training for 3 CPE credits with SAO's Local Government Support Team on updates to the BARS Manuals, including important accounting and reporting updates, annual report filing changes, opportunities for small group discussions, and more;
Dedicated time to connect with the audit team who oversees your government's regular audits; and
An interactive session with SAO's Center for Government Innovation, where we'll show you the latest tools we've developed and invite input from you about what more you need. You also will be able to connect with your peers in other governments and share ideas.
Though we hope you'll spend the day with us, we also want this event to work for you. That's why you can sign up separately for the BARS training and the session with the Center. The time with your government's audit team is scheduled to take place between sessions, so it won't be necessary to sign up for that. Before we get to the signup links, here are the dates, times and locations for
the SAO Roadshow.
We know not everyone can travel to an in-person training. We also plan to offer the BARS Manual training update via webcast in November. Those participating in the live webcast also can earn CPE. More information on that opportunity will be available soon. Finally,
the Center for Government Innovation plans additional dates and times for the same in-person outreach provided at the Roadshow.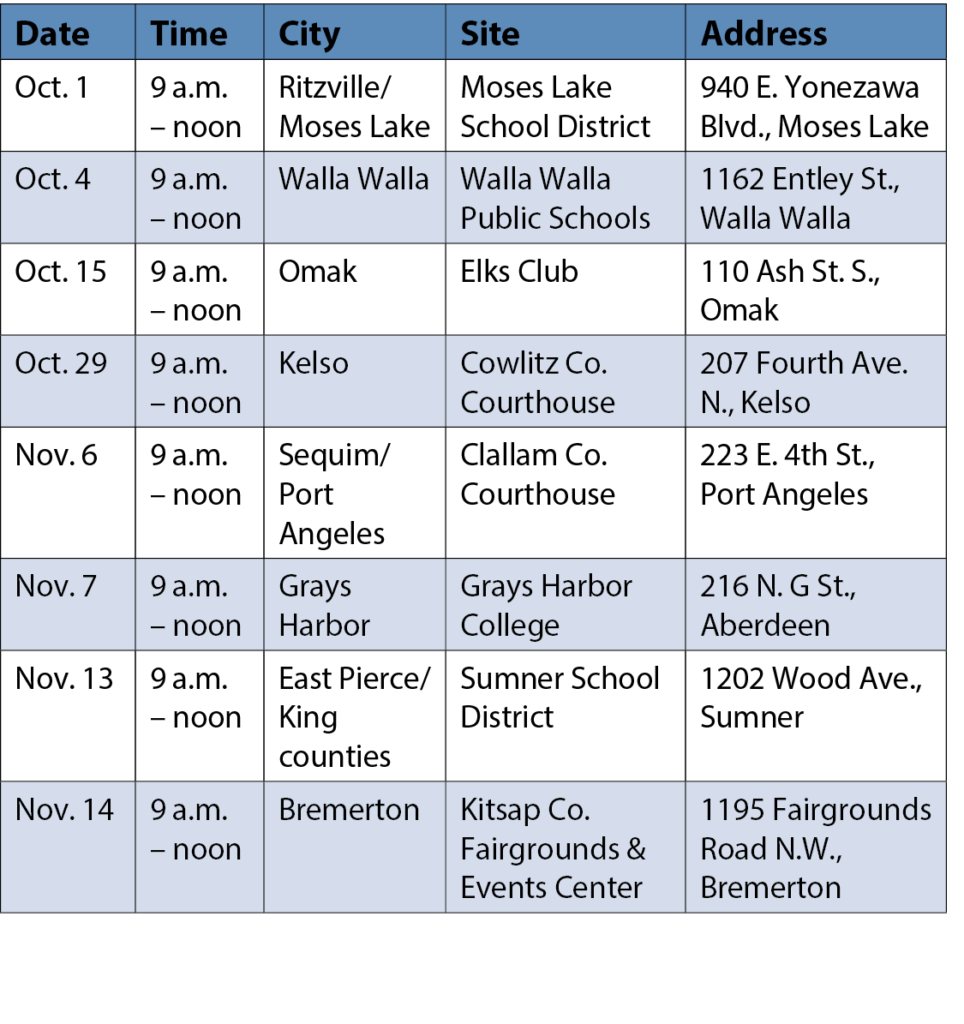 Now, it's time to sign up!
Registration is strongly encouraged. Please register each person who plans to attend, so we can ensure we have enough room for everyone. And remember to choose both "Roadshow" slots if you plan to attend the whole day.
Click here to register: https://www.signupgenius.com/go/70A0C48A5A82DA7FE3-2019
If your session is full, please email Heidi Walter at Heidi.Walter@sao.wa.gov or call 360-725-5621 to be placed on a waiting list. Heidi also stands ready to answer any questions you have about the Roadshow and Center events. We look forward to seeing you soon.