Published: March 24, 2021
The most common OPEB benefit provided by some local governments is through the Public Employees Benefits Board (PEBB) plan. This plan provides OPEB benefits through implicit and explicit rate subsidies for retirees. Even though retirees pay 100 percent of their premiums, that payment is not the full cost of the benefits. Retirees pay less because participating employers like you pay a little extra. That little extra is OPEB.
We do not participate in the state's pension plans. Can our retirees get this benefit when they retire?
Your retirement plan does not need to be a Washington state-sponsored plan to meet the eligibility requirements for this benefit. An employee who is eligible to retire under another qualifying retirement plan sponsored by an employer (for example, 401(k) s, 403(b) s, SEP, SIMPLE, etc.) may be eligible. See WAC 182-12-171(2)(c )(i) and discuss your plan with the PEBB to ensure your district doesn't miss out on an important post-employment benefit.
What is OPEB?
Other Post-employment Benefits (OPEB) are post-employment benefits other than pensions. This includes:
Post-employment healthcare benefits (medical, dental, vision, hearing, etc.) – whether provided through a pension plan or separately;
Other benefits (death benefits, disability, life insurance, long-term care, etc.) – when provided separately from a pension plan.
How can I calculate my PEBB OPEB liability?
Your PEBB OPEB liability can be easily calculated each year by using a free tool provided on-line by the Office of the State Actuary (OSA). For help in completing the tool, see the how-to video on our BARS Cash Basis OPEB webpage. Click on the eLearning quick link at the top of the page.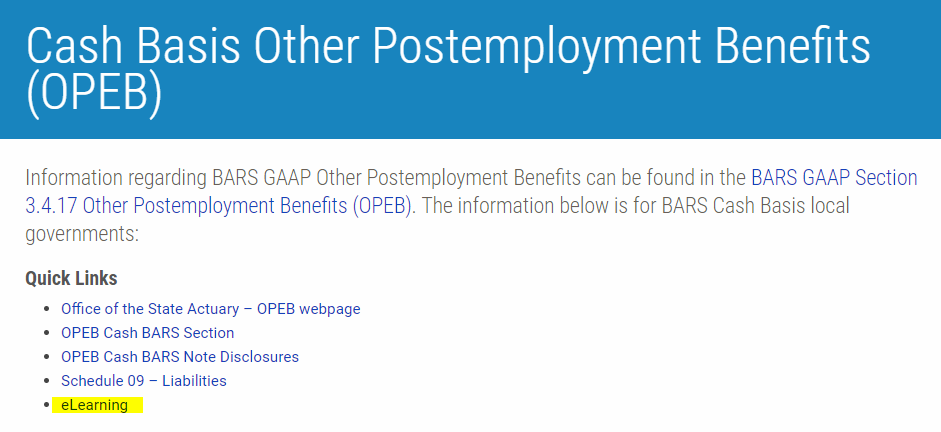 The current reporting year (2020) tool is on OSA's website. If you need the calculation tool for an earlier year, or help in completing the tool, contact Debra.Burleson@sao.wa.gov or SAO's online HelpDesk.
If you provide OPEB through any other plans or are uncertain about whether or not an arrangement qualifies as OPEB, please contact the SAO HelpDesk.
How do I report my OPEB liability?
Your OPEB liability is a long-term liability that is reported on Schedule 9 on your annual report to SAO. The OSA tool calculates your ending balance each year. Enter the necessary amount to the additions or reductions column on Schedule 9 to arrive at the correct ending balance. See the eLearning video above for more information.
See the BARS Cash Manual – Note X – Other Postemployment Benefits – for the required note disclosures.