Published: April 21, 2021
Congrats on submitting your annual report. If you are a local government user, the Financial Intelligence Tool's (FIT) role-based functionality allows you to access your 2020 data right now! There is no need to wait until June if you use the "Live" Annual Filing Data option.  First, login in to FIT, then select "Live" Annual Filing Data in the upper right hand corner drop down menu.  You now can explore your updated trends, financial health indicators and more.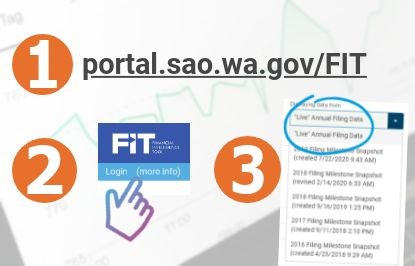 Does the data look consistent with your past submissions? Do you notice anything you have questions about? We are happy to assist.
If you are new to FIT or if you're looking for tips and tricks, we can help! Use our 15-Minute FIT tutorial for beginner lessons on the application, or schedule a FIT Personal Training session with our FIT experts to help answer all your questions.
Explore the award-winning Financial Intelligence Tool today!
---