4 Reporting
4.1 Reporting Principles and Requirements
4.1.6 Reporting Requirements and Filing Instructions for Special Purpose Districts
4.1.6.10 Pursuant to RCW 43.09.230, Annual Reports are to be certified and filed with the State Auditor's Office (SAO) within 150 days after the close of each fiscal year.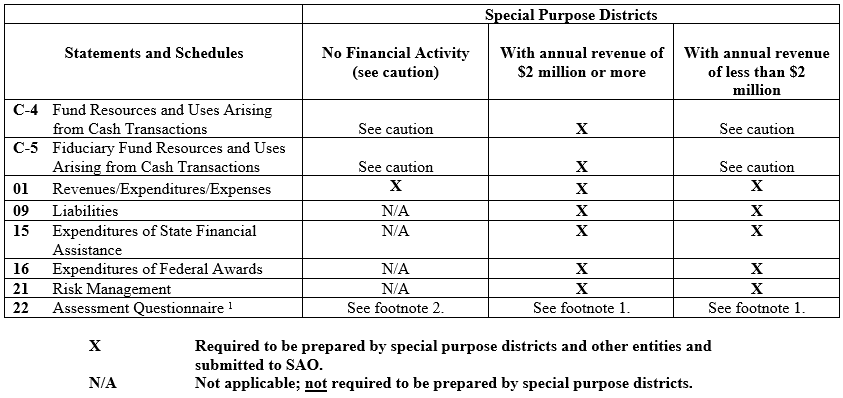 Footnote:
[1] Conservation, fire, diking, drainage, cemetery, mosquito, pest, weed, transportation benefit districts, local/regional trauma care councils and industrial development corporations are required to prepare the Schedule regardless of the amount of revenue. See footnote 2 below for no activity reports.
[2] No financial activity reports do not require a formal Schedule 22 to be submitted. Governments who file a no activity report will be required to submit supporting documents to confirm no activity, such as meeting minutes, county reports and/or bank statements.
---
Caution
4.1.6.20 The SAO online filing system will automatically produce the C-4 and C-5 statements for the local governments. Note that local governments with total revenues of $2 million or less are not required to prepare financial statements unless debt covenants, a contract, a grantor or the district's legislative body requires the district to prepare the financial statements or if the government is to receive a financial statements audit. If this request is made, C-4 and C-5 statements and notes should be prepared. The $2 million threshold calculation excludes any proceeds from issuance of long-term debt and resources held by the government in its fiduciary capacity.
4.1.6.25 Local governments with no financial activity, defined as having neither expenditures, other than small automatic bank fees (such as dormant account fees) and the state auditor's office audit billings, nor revenues other than interest income on any cash balances, have the option to submit summarized annual reports. These governments need to submit a Schedule 01 reporting cash balances at the beginning and end of the reporting year as well as any investment income received on those balances if applicable. These governments also will be required to submit no activity supporting documents such as meeting minutes and county reports and/or bank statements verifying no activity. Note that by selecting this submission option, preparers of the annual reports are certifying that their government meets the definition of no activity as explained above.
For questions and/or support e-mail the SAO HelpDesk through our Online Services.
4.1.6.30 If more than $750,000 in federal funding was expended by the entity during the year and a federal single audit is required, the entity must prepare financial statements if it has expenditures of federal money from more than one program or cluster. However, an entity that normally does not prepare financial statements may not need to prepare them for the single audit if it has expenditures from only one program or cluster. Entities should consult with their local SAO team or the SAO HelpDesk if they have questions about this requirement.
4.1.6.40 Forms
The templates for Online Filing for Schedules 01, 09, 15 and 16 are available on SAO's website page, BARS Reporting Templates. When using the Online Filing option, the system will create the Schedule based on data provided by the districts on these templates.
Blank forms for other schedules are provided in this Manual. The use of these particular forms is not required; however, information requested by the form is prescribed. Specific instructions accompanying each statement and schedule identify which, if any, details are optional.
4.1.6.50 Subsequent corrections
All subsequent discoveries of errors and omissions in the annual report – from the date of original submission up through the end of the audit applicable to that period – are required to be corrected by resubmitting the annual report. For any misstatements discovered during the audit, governments should ensure open communication with the audit team about the correction. Any misstatements discovered after the audit is completed that affect Schedule 01 should be recorded as a prior period adjustment. If misstatements discovered after completion of the audit are material, governments should immediately alert their audit team.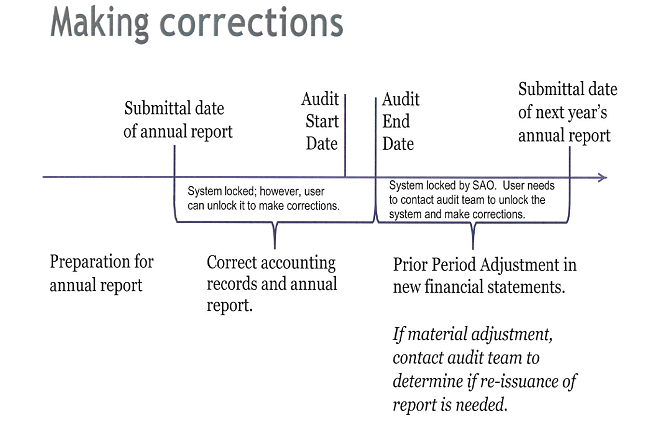 4.1.6.60 Filing instructions
Electronic reporting is encouraged when filing annual reports. Annual reports should be submitted via the Online Filing option on the State Auditor's website at: SAO. Acceptable file should adhere to the prescribed record layout and should be an Excel file. It should include column headings. All columns must be formatted as text except the Actual Amount column which is numeric. More details are provided on the website.
For questions and/or support e-mail the SAO HelpDesk through our Online Services.
If the special purpose district cannot provide the annual report in the electronic format it should mail completed templates it to:
Annual Report
State Auditor's Office
Local Government Support Team
P.O. Box 40031
Olympia, WA 98504-0031
The conservation districts are also required to submit their annual report to:
Washington State Conservation Commission
PO Box 47721
Olympia, WA 98504-7721
4.1.6.70 Certification
Prepare the Certification (available on the BARS Reporting Templates page), sign and date the certification before submitting the report.
4.1.6.80 The following matrix describes required statements and schedules for cash basis special purpose districts and the scope of each schedule.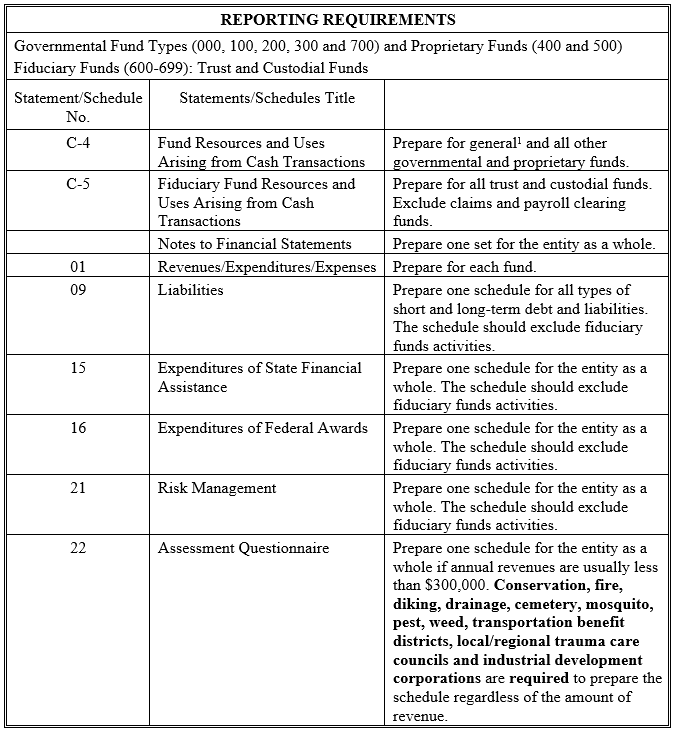 Footnote:
[1] There should be only one general fund. Also, if the local government accounts for the debt and capital projects related to proprietary activities in funds other than proprietary, these activities should be incorporated in the appropriate proprietary fund. All interfund transactions between funds which are combined for reporting purposes should be eliminated to avoid double counting.
---
Annual Report Disclosure Form
MCAG No. _______
(District)
(This form is NOT required if the district is submitting the annual report electronically.)
Please check if the statements/schedules are attached. Use the column which is appropriate for the district. If financial statements and/or Schedule 22 are not applicable mark the spot NA (not applicable). An unmarked spot will indicate that a schedule is not attached due to lack of activities described in this schedule in reported year.

Footnote:
[1] Only special purpose districts with revenue of $2 million or more are required to prepare the financial statements. See the Caution section above.